Tradeshow Marketing: 3 Keys to Swag Like a Boss
By Conor Monahan
Tradeshows are overwhelming
But with the right B2B and B2C engagement goals in mind, as well as the marketing tools to get there, your team will feel confident about meeting their brand-love challenge head-on.
For Starters, Don't do what they do!
Not exactly—at least. Promotional swag is an obligatory part of every tradeshow, and there are many different reasons that people enjoy it. But all promotional swag suffers from the same marketing problem: SATURATION.
One brand bleeds into another, and the return on investment you made in choosing your promotional giveaway drops significantly.
But the issue really isn't with the swag or your brand, so much as the result of branding.
Boring branding that is.
So take a look at WithLogos' suggestions for a few key areas to help promote your brand and deliver a better ROI for your marketing and advertising goals.
Key 1
Talk with your team about choosing the perfect promotional swag item, or items, and try to surprise your audience. You want your team to feel confident and empowered to deliver this promotional item. Don't send them out there feeling embarrassed!
Instead ask, "Is there a useful item that speaks to our core audience, in a way that acknowledges an unrecognized need?"  
Looking beyond the fact that we all need to drink water to survive, Custom Printed Sugar-Free 5 Hour Energy Shots connect with your audience in more dire territory: staying awake through the whole tradeshow.
This giveaway makes it easy to become a crowd favorite, ensuring as many impressions as your team can handle. From here your team may establish a connection directly from the idea of recognizing a need, link by link, impression by impression, to your product or service.
Key 2
Try toying with the "convention" of the convention. By delivering a message so unexpected, or personal, your swag will avoid a destiny-date with the garbage can.
Imagine something out of the ordinary and say it. Then print it! On a Mug, Stress Reliever Ball, or (best of all) reusable Office Stationery.
Writing by hand is not dead; it has just grown less exciting than writing on your "device." Remind your clients why they should be excited to give your pen to a colleague as a joke.
"I love dogs...a lot more than humans!"

"This whole conversation could have been an email."
One exercise to help get the creative juices flowing is to imagine your giveaway being brought to a holiday white elephant gift exchange. What would make you laugh?
Key 3
Capitalize on the current cultural moment as if it were a post on your social media account.
It's ok to be trendy—in fact, it helps bring strangers together around a common idea. By uniting a group of tradeshow attendees around a popular idea or joke, you offer immediate benefit for their participation with your brand.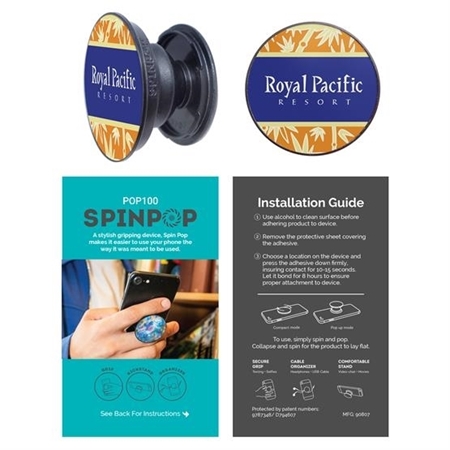 As phones continue to grow larger and more expensive, innovative additions like the Spin Pop, a more affordable version of Popsocket, guarantee a popular and affordable return for your investment.
But don't stop at the mere practicality of a PopSocket: remember Key 1. Why not engage with your clients on an emotional level, asking them to make a fun choice that instantly outdoes your competitor's simple brand marketing.
The internet and photos of cute animals were made for each other. It's a natural entry point to engage your audience, asking: "Are you a fluffy cat lover, or exceptionally cute dog lover?"
 VS.
Then deliver the results of your poll direct to their email. What you have there is an emotionally driven connection, as well as a top-of-funnel lead regarding what interests this individual holds.
Pretty handy work for a little Phone Holder!