3 Keys To Help Ease Your Patient's Dental Anxiety
by Conor Monahan
Is there a more shared feeling of dread in the western world than that of a quickly approaching visit to the dentist?
Probably.
But "dental anxiety" is most likely the scariest thing we face that is actually a benefit to our health (most adults have moved past broccoli).
So, what is it about the dentist that consistently conjures up our worst fears?
Sensory Overload
It's hard to say that a dentist's office is more stimulating on our psyche than, say, a smartphone, or rush hour traffic, but it is worth noting that annual dental check-ups are among the most invasive experiences most of us will undergo for the whole year.
While a new app may be sending high-frequency messaging to our brain engaging our emotions and desires, your dental hygienist is actually inside your head—physically, doing...stuff. The sensation that results from a typical cleaning registers in ways that app-developers can only dream of—for now.
And there is really nothing that is going to change about the intimate nature of the work. So it makes sense to apply some strategy to the hygienist/client relationship:
Develop a rapport and get to know each other. This helps take the edge off, while conversation helps normalize the dynamic that is felt between you two.
Remember, this can be the beginning of a lifelong relationship
Acknowledge that this is kind of a funny thing—for both of you

Engage in the scope of work and oral hygiene in general
This last bullet point is such an important one! Dental hygiene is absolutely fascinating, and increasing patient knowledge on the subject not only minimizes the time they spend with the bibb on but has the added benefit of disarming their general fear of the unknown—replacing it with the calm assurance you feel when visiting with a friend.

Sameness
How is it that thousands of dental offices all over the country all seem to resemble each other? This sameness is surely a trigger, which evokes all of our dental experiences, past, and present.
Whether it's the pastel color schemes, suburban waiting rooms, that hard to define smell (it's always the same), or the far off jazz playing just loud enough to remind you that maybe you haven't been brushing as much as you should—something has got to give.
So instead of falling into the trap of trying to re-formulate the dentist office blueprint only to have it resemble a hip cafe or another layout patients will quickly learn to dread, we think it is time that dental receptions get a competitive makeover!
Dentists, it is time to turn the wall space, table-tops, counter and airways over to your staff and encourage them to decorate.
Let some feeling flow back into the novacaine-decor of your reception room. Try setting your practice apart by choosing a theme that embraces the unique character of someone or something in the office.
Two of the most successful companies of the last 50 years have done this:
Virgin Atlantic continues to lead the airline industry through an emphasis on design, service, and entertainment. By investing in opportunities to "make flying fun again," they have created a cult-following of everyday consumers who wish to avoid the doldrums and stress of flying

In designing stores that reflect the "unique character of the neighborhoods they serve," Starbucks has launched a brand of welcoming and familiar coffeehouses without rival.
Give Me Something In Return (...so that I return)
The only redeeming part of going to the dentist as a kid is the opportunity to dig through the treasure box at the end of your visit. If you did not get to experience this growing up, this news might be adding insult to injury. Apologies.
So why does that feeling of reward have to stop—especially as you are stuck going to the dentist for life—now that you have to pay for it?
As trusted voices in business routinely note, generosity can go a long way to endearing a customer to your business for life. And businesses that invest in generosity will be rewarded when that word of mouth endorsement delivers new customers and deepens existing loyalty.
The trick is not so much about giving away branded items, as it is demonstrating the investment your business has in a client's well-being.
Sometimes wellness may be acknowledged with a simple gift:
Lip Balm rejuvenates lips after they have been stretched and dried during a long dentist visit 

Or a themed stress reliever which will help disarm patients having trouble relaxing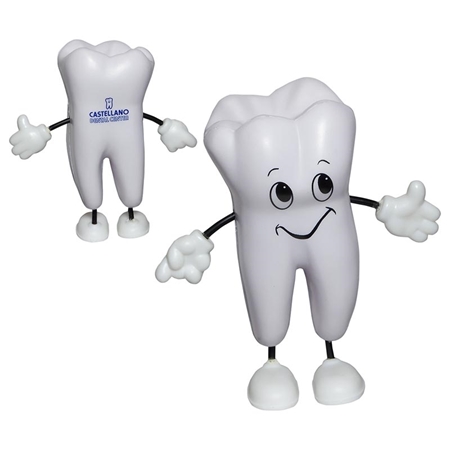 Select reception areas now even feature a self-serve beverage fridge, which always feels like a trick, right? (Should I take the one with sugar in it?)
But maybe more enlightened businesses will take advantage of ever-increasing ways that they may serve clients needs beyond the walls of their office:
Custom printed Pop-Sockets appeal to a range of demographics: show the kids your hip and help their parents make their way in the brave new world. Pop-Sockets also help patients who may opt to watch content on their phone during a visit.

Promote healthy habits while reinforcing your brand by offering something for patients to drink from...other than that little wax cup!
Really, the opportunities are endlessly personalizable because this is about you creating a generous relationship with your clients—even if you are scheduling their next root canal.